Posted by: Jeff Hinson
Check Out the Finalists and Then Vote for Your Favorite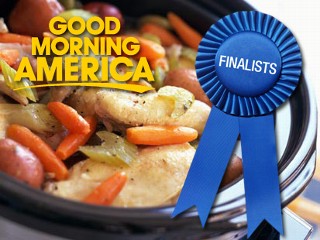 "GMA" put out the call and after hundreds of viewers e-mailed us their super slow-cooker recipes, we narrowed it down to the final five.
Check out the recipes from the fab five below and click here to vote for your favorite.
Lentil Soup by Mary Sperling of Newberg, Ore.
Chicken Dressing by Merrie Youngblood of Rossville, Ga.
Ribs by Patricia Freeman of Arlington, Mass.
Slow-Cooker Chilupe by Penny Lippold of Portland, Ore.
Crock-Pot Meatloaf by Gail Farber of Romeoville, Ill.

Now Click Here to Vote for the Best!